Group Accident Policy (1 January 2022 – 31 December 2022)
The School has taken up a Group Personal Accident policy for your child/ward with Marsh Singapore – NTUC Income (effective from 1 January 2022 to 31 December 2022).  
The policy is by no means extensive and is intended only to help defray some of the costs incurred by an accident.  
Please enquire at the Admin Office for submission of a claim.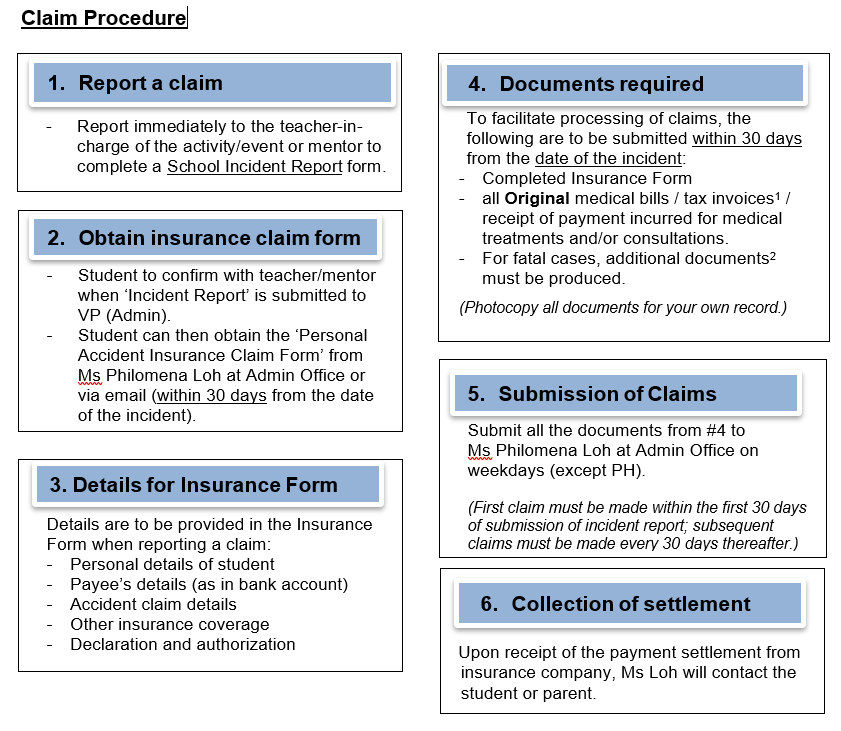 Footnotes:
1. Validity for claims on treatment must be within 12 months from date of incident.
2.
(1) Death claim – documents are required from
(a) Coroner's Report;
(b) Birth Certificate;
(c) Death Certificate;
(d) Police Report.
(2) Permanent disability claim - Medical report.
Basis of Cover: As per schedule as follows:
Benefit
Sum Insured / Limit
1) Accidental Death
S$50,000
2) Accidental Permanent Disablement (including Second and Third Degree Burns)

Up to 150% of Accidental Death Benefit

(As per Policy Schedule of Benefits for Partial / Total Disability)

3) Funeral Benefit / Burial expenses
S$5,000
4) Medical Expenses for injury due to an accident (sum of outpatient and inpatient medical expenses)
Up to S$13,000 for medical expenses incurred up to 365 days from date of accident:
With the following sub-limits:
a.

Outpatient Expenses (up to S$2,150 including $400 sublimit for Chinese Medicine Practitioner)
For outpatient and follow-up medical treatments due to an accident including minor / day surgery at clinic / hospital, physiotherapy at specialist outpatient clinics (SOC) in restructured hospitals and Singapore Sports Council, dental treatments recommended or asked by a medical practitioner for the Insured Person to be treated.
b.

Inpatient Expenses (up to S$10,850)

for inpatient and follow-up treatments after hospitalization due to an accident including daily room and board (incl ICU), capped at S$120 per day, in-hospital consultation and surgery expenses, for other hospital services (eg X-ray, MRI, prescription, medical supplies, operating theatre)
c. Reconstructive Surgical Expenses arising from an accident (up to S$13,000) including medical consultation, test, surgical procedure and medical treatment before/after the surgery
For accident overseas, the Insured Person must seek treatment within 7 days of returning to Singapore
5) Hospitalization Allowance (overseas and upon return)
S$50 per day of hospitalisation stay (up to a max of 50 days)
6) Temporary/Permanent Mobility Aid, Prosthesis and Other Implants
Up to S$5,000
Note: A doctor's prescription or memo to support the purchase of mobility aids, prosthesis or implants is required
TERRITORIAL / GEOGRAPHICAL LIMIT(S)
(a) To cover the students while within their premises (including boarding school 24 hours cover) regardless whether they are participating/attending any school activities;
(b) Participating in the school's activities, or any activity related to the school, including home-based learning & blended learning, Co-Curricular Activites ("CCAs") and sports, regardless of the time at which such activities are conducted and whether the activity is conducted in the school, in Singapore, or elsewhere;
(c) Commuting from (or to) his or her residence, including a hostel, to (or from) either the school premises or place where an activity covered by the GPA Insurance will be conducted, including any reasonable deviations.
(d) To cover overseas travel on worldwide 24 hours basis for purpose of participating/attending to activities outside Singapore.
Applicable to items (b) to (d) above, Activity / activities refer to activities approved/organized/endorsed/sponsored/authorized by NUS High School.
AGGREGATE LIMIT(S) OF LIABILITY
S$10,000,000 per occurrence/per event
EXTENSION(S) / CLAUSE(S)
. Act of god / convulsion of nature
. Automatic additons, deletions & promotions
. Disappearance, including disappearance resulting from an act of god or convulsion of nature (Limit: 365 days)
. Domestic Assistance Benefit ($1,000)
· Drowning and Suffocation by Gas, Poisonous Fumes or Smoke
. Double indemnity for Death or Permanent and Total / Partial Disability whilst on a public conveyance or due to a natural catastrophe
· Exposure
· Food Poisoning
· Hijack
. Murder and assault
· Terrorism including losses caused by terrorist attacks by nuclear, chemical and/or Biological substances
. Trauma counselling, psychiatric and psychological treatment for insured's next-of-kin, should insured suffer from death or total / partial disability from an accident (Limit: S$1000)
. Injury, illness, disease or Death resulting from complications or related to attacks by venomous or disease transmitting insects, reptiles, amphibians, sea creatures and animals.
. Claims arising directly or indirectly or in consequence of invasion, act of foreign enemy, hostilities, acts of terrorism, civil war, civil unrest, civil commotion, strike, riot, rebellion, revolution, insurrection, mutiny, uprising, military coup or other usurpation of power, confiscation, detention, nationalisation, requisition, martial law or state of seige or any events or causes which result in the proclamation or maintenance of martial law or state of seige.
· 2nd Degree Burn - S$5,000
· 3rd Degree Burn
· Additional Accidental Death Benefit due to Natural Catastrophe (Additional Payout – up to S$5,000)
·

Ambulance Costs (Limit : S$500)
· Notice of Cancellation amended to 60 days
· Comatose State Benefit (Up to 10% of accidental death or S$50,000 whichever is lower)
· Community Involvement Program approved/endorsed by the Insured
· HIV due to blood Transfusion (up to S$5,000)
· Job attachment assigned and approved by the Insured
. Non-Elective surgery (up to S$5,000 per accident)
· Miscarriage due to an accident
·

Motor-cycling
·

Scarring of Face (up to S$500)
· Strike Riot & Civil Commotion
· Unscheduled Flight (up to S$2,000,000 per conveyance)
·

Memo A
Policy is extended to cover hazardous activities/sports if such activities are organized/endorsed/authorised by the Insured.
. "infectious disease" under the Infectious Disease Act (Cap. 137) due to and arising from exposure in the insured's school premises or during any school-related activity, whether in Singapore or elsewhere.
MAJOR EXCLUSION(S)
. War, revolution or any similar event
· Radioactivity or nuclear risks
· Criminal act, self-injury, suicide while sane or insane, provoked assault, intoxication, drugs
. Taking part in flying or aerial activities except as a fare paying passenger
· Professional sports, any kind of speed contest or racing (other than on foot)
· Engaging in naval, military or air forces services or training (other than reservist training)
Important Note: Above summary provides a brief outline of the coverage. For full details, please refer to the policy's terms and conditions.